Letzter Update 14.12.2000

Flat Heating, Calculation and Layout
We are specialized in calculating and designing flat heating (except floor heating for buildings what is done by conventional heating installation companies). Electric flat foil heating can be used for many applications, e.g. in cars, traffic- and bath mirrors as well as for seat heating in sports stadiums and churches. Heating only small masses (just the surface) to only low temperatures, this system uses a minimum of energy.

Further applications are heating for complicated, sometimes even three dimensional shapes which are often used in chemical related processes. Also electronic components need heating, if used outdoor in winter, whereby it is possible to integrating heating in the PCB design (resulting in considerable cost saving).

Flexible flat heating with textile substrate are used in car seats and covers.

Electrical flat heating can be manufactured with several different methods. Mostly with wire laying, corrode and screen printing. Wire laying means, that a wire with defined length, cross-section, and specific resistance corresponding to the demands is laid equal down and fixed by glue ore something else. Corrosion and screen printing are like positive and negative. With corrosion the wanted resistance is covered by photo varnish and the rest will be removed by corrosion. With screen printing the desired heating resistances are printed and dried mostly on polyester foil. This way to realize flat heating is especially used for big production volumes.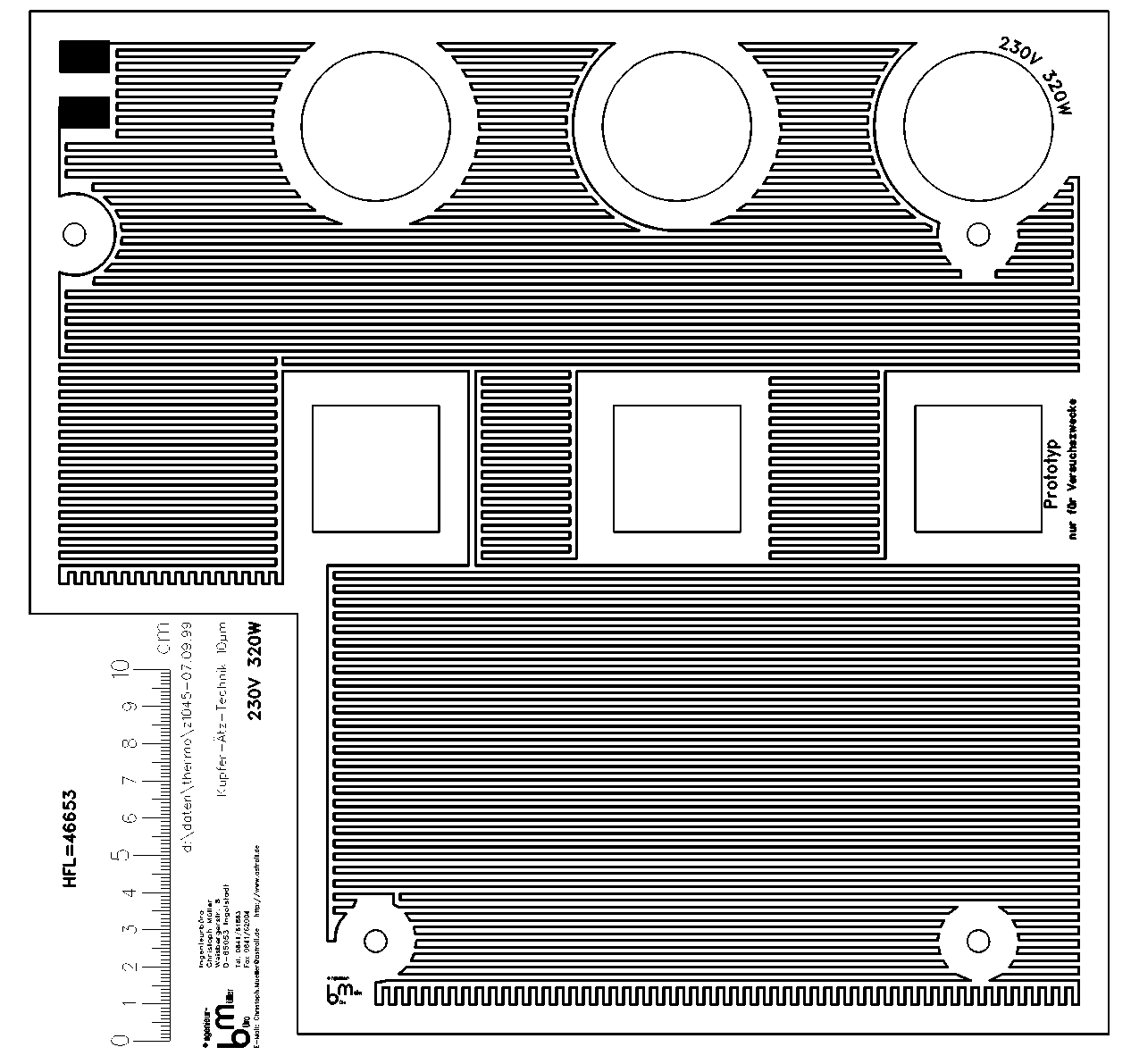 Example: heating for a snow cannon
We can design Flat Heating layouts for your requirements
Send us your requirements via email . either by:

specifying desired GEOMETRY (showing heated area) in form of DXF-File (enquire for other formats),

or send them to us with exact dimensions (specify MM or INCH) by fax (+49 841 62004) or by regular mail.

Please show locations of connection points and resistors (if any) to be cut to insert a thermostat. Specify ELECTRICAL dimensions (voltage and power). In case of using PTC-Resistors, temperature and temperature coefficient are needed for required application range.

Specify MATERIAL data such as area resistance in Ohms/1² or the specific material resistance in regard to thickness. We can also do this together.

If wire technique should be used, details about resistance per length, minimal bending radius and desired laying technique are needed.

Please also don't forget to indicate use of heating.

With these data on hand, we can start calculating and layout making. If you want to use wire laying, we will supply data for the laying board in form of DXF-File via email or a 1:1 plot via regular mail.

In case of corrosion or screen printing, we will provide a PostScript-file (ps or eps) via email or hardware in form of a film or screen via regular mail.

We can also assist you to find a manufacturer for the end product. A few laboratory samples can be corroded for you within short time up to the size of one DIN-A4-page.

We are also able to solve other technical problems beside flat heating. We are using CAD. 2D, 2 1/2 D, 3D and solid modeling; all as well in mixed mode.


Let us be your engineering partner!

checklist flat heating
Email: Christoph.Mueller@astrail.de
Back to the Homepage